DRONES..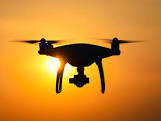 We welcomed Eric Moran to our 8th October meeting and learned of his enthusiasm for and interest in drones - or more correctly 'unmanned air vehicles'.
Eric had with him an example of a small vehicle intended for recreational use. And he said easy to build. Although of deceptively simple physical design with a frame, electric motors, propellers and battery, the hidden microelectronics were clearly complex. With wireless transmitters and receivers, sensors, stability controls, computer and satellite communication, the vehicle was of very advanced design. Yet amazingly inexpensive to buy.
Eric demonstrated his small unit within the meeting room and flight stability and control precision were impressive. Powered by 'lipo' batteries, flight duration could be 10 to 30 minutes, depending on battery and vehicle size, with a range of 2.5 to 3 miles. Even small vehicles are able to carry payload such as a small camera and are sufficiently rugged to withstand 20mph winds. Wireless operating range is around 5 miles.
We saw several high quality videos taken over familiar local landmarks, coastline and harbours and heard of the excitement of using on-board video cameras and special goggles to 'pilot' the vehicle.
Clearly there are questions of safety and privacy involved and Eric spent some time speaking about operating regulations and of the importance of training. He also described the sophistication now available, where reference to 'satnav' information enables vehicles to automatically avoid flight in prohibited areas - airports and similar. The same systems enable a vehicle to automatically return to home if, for example, battery reserves become low.
Altogether an intriguing talk and, following questions, a vote of thanks was proposed by club member George Hunter.