North Carr..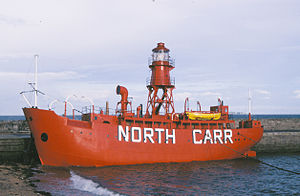 The 27th August speaker was club member Allan Wood, who gave a very interesting illustrated talk about warning lights at the North Carr rocks - four sandstone Riggs that presented a serious shipping hazard.
The story started with a 17th century owner of Balcomie Castle, who proposed action - but nothing happened.
The task proved to be exceptionally difficult, due to the rocks being mostly submerged at high tides. Even efforts by Stevenson, that master of lighthouse building, were thwarted. In 1810 / 1812 he had the contract to build at May Island and attempted North Carr too. However tiers of interlocking masonry were regularly destroyed by storms. Part of the difficulty seems to have been the small footprint available - some eighteen feet in diameter. Finally, after a number of attempts, the surviving five tiers of masonry were topped with an open wooden structure topped by a 'ball'.
Rocks for the work were cut from a quarry just below the present Crail Golfing Society clubhouse - with a template for shaping the rock still visible on the foreshore adjacent (and marked by an information board). This work was completed in 1821.
By 1887 warning provisions had been improved, with the deployment of a lightship close by and in 1933 this was replaced by the iconic North Carr Lightship, which was itself retired in 1975. Since then and to present times, warning has been provided by a shore-based sectored light at Fife Ness.
The North Carr Lightship was itself involved in a tragic event. On the 8th December 1959 and amidst the most tumultuous seas ever witnessed by fishermen on the East Neuk of Fife, the lightship had broken its mooring and was drifting towards the very rocks it was stationed to protect others from. Amidst 40 foot waves, a second anchor, encumbered with chain, was thrown out - it held fast and the lightship survived. The Broughty Ferry lifeboat, Mona had been launched on a rescue mission and sadly It is thought to have turned turtle with the crew of eight lost.
North Carr the last remaining Scottish lightship and is currently berthed in the Victoria Dock, Dundee.
Following questions a vote of thanks was proposed by David Mann.