Welcome
to
Ashfield Artist
Hare - Watercolour on paper
We have recently moved to the beautiful Kingdom of Fife and I am looking forward to lots of exciting projects in 2015! We are near the sea and I am excited to use the clear light in North Fife as inspiration!
The Dunford Orchard, March 2014
I am delighted that one of my paintings, 'Early Snows Braes of Doune' (owned by Stirling University Art collection) is being featured as part of the BBC 'Your Paintings' website. Here is a copy of the painting. http://www.bbc.co.uk/arts/yourpaintings/paintings/early-snow-braes-of-doune-127947
Effervescence (for Hugh Dunford)
Singapore Commission:
It has been an exciting time for me in the last year! I have a large commission from a client in Singapore! The following works are the largest pieces I have ever created and I have enjoyed working on a bigger scale!
Sunset Song (200cm x 50cm)
Summer Grasses, Evening Light (150cm x 100cm)
Firefly Energy (200cm x 150cm)
These paintings really inspired me.
Similar sizes are available for commission only. Price on application.
The Colour Trio
The Colour Trio's first exhibition was a great success! Despite awful weather on Saturday, we had plenty of visitors and a great busy Preview evening! I am happy to report a healthy clutch of sales too!
I will upload some photos of the show, but in the meantime, here are a couple of photos of Karen Ellis Sowerby, Siobhan Gouw and I on the opening night.
Karen Ellis Sowerby and I with the lovely bouquet from the lovely ladies at my Wednesday Art group!
Rosehips Watercolour
Pixel - Acrylic on canvas
Before the opening...
Colourfield
Commission work: Autumn Breeze
Ben Ledi - Acrylic on canvas
Autumn Apples - Watercolour
Sunlight on Hills
I am also working on a number of commissions ranging from mountains to hares. It's all exciting stuff! I will upload images as I make them...
If you would like to commission your own piece of work, or would like to ask about any of the work that I show on this website, please feel free to e-mail me at ashfield-artist@hotmail.co.uk I would be delighted to hear from you. Commissions can cost from as little as £40, which, for an original piece of artwork is pretty affordable!
Firefly Truth
Life Tree 2
Sun Magic, one of my Macmillan pictures for 2012.
Life skills - Another of the 2012 Macmillan pictures.
Gathering Storm - the final of my three 2012 Macmillan pictures
Detail from a work in progress - 'Sunrise Hares'
Juggling Lives
Mac and Sam - pet portrait.
The 2012 Craft fair was a roaring success (helped in part by a sunny crisp day!) Thanks to all that helped to make it a triumph! Here is to next year!
In addition to the work I made for this show, I ordered some new packs of my abstract notelets from a new local supplier. I'm very excited about them as they will feature 6 brand new paintings! They are available now and were launched at the Bridge of Allan Contemporary Art Festival on 3 November and also at the Ashfield Craft fair on 11 November 2012.
This is the abstract selection - six notelets with envelopes for £6.00 (postage and packing £1.50) e-mail ashfield-artist@hotmail.co.uk to order.
I have also been working on various commissions, which have been great fun! I have added a selection of photos of the images below....
Eiffel Tower
'Sammy' pet portrait
'Eemeli' pet portrait a Finnish commission.
Tales from the Ocean - USA Commission
A spring highlight of my year in 2012, was the first Ashfield Art group exhibition. The group, which includes a weekly adult and kids class was started by me in 2011. This was the culmination of the hard work of that first year and I am extremely proud of the high quality of art on show. I hope to make this a bi-annual event!
Our second group exhibition is planned for September 2014
Thanks to Karen Ellis-Sowerby for the great photography!
Some images from the Ashfield Art Group exhibition.
New Work:
'Benny' a horse portrait.
To commission a portrait of your own animal
send an e-mail initially, to ashfield-artist@hotmail.co.uk
About me:
Jennifer S Reid was born in Yorkshire in 1972. She trained in Fine Art at Bradford College and then gained a BSc (Hons) in Textile Design at Hudderfield University.
In 2002 she moved up to Scotland and settled in Ashfield a small village near Dunblane where she set up her studio and began Ashfield Artist.
In 2005 her first solo exhibition 'A Sense of Place' launched her professional career as a full time painter and textile artist.
Jennifer S Reid
New projects:
After a successful 2011 and 2012, 2013 began with some exciting overseas commissions! I've sent work to USA, Eire, Finland and Australia!
I have also worked on illustrations for a children's book project...
One of my illustrations from the children's book 'The Crocodile who lost his smile' by Nicola Hill.
Still life with Auricula
Still life with Tulip
Still life with daffodil
Breeze through tall grasses - sold at Macmillan Cancer Support.
Birches, Evening Light. Also sold at MacMillan Exhibition.
Summer Night, the last of the three from MacMillan exhibition.
In addition to the Wednesday Art classes that I am running in the village hall in Ashfield, we celebrated our first 18 months of work with our first group exhibition in Spring 2012. It was well attended and full of interesting and inspirational work. We were delighted to sell a fair few pictures too! Some of the sales went to the Scottish charity Alzheimer Scotland.
I had a brilliant time at the excellent Bridge of Allan Art Festival which took place in various venues in Bridge of Allan near Stirling in the Autumn of 2011. My work was shown in St Saviours Church on Saturday 5 November 2011. I sold pictures and notelet packs and made a connection with Jon Piccolo from Showcase Glass.
Keep checking this site for new work.
Abstract:
Abstract is my theme just now, and I am enjoying developing ideas and thoughts that have been in my mind for some time.
See what you think of the work, which was on show at Kilbryde Castle 11 - 19 September 2010 as part of the Perthshire Open Studios event and also at the Macmillan Cancer Support Exhibition at the Dovecot Studios in Edinburgh between 2-6 November 2010. I have just finished the hugely enjoyable joint exhibition 'Natural Exuberance' with my friend and ceramic artist Gio Martin. The exhibition ran between 29 and 31st October and was a great success. Have look at our exhibition count down blog: www.naturalexuberance.blogspot.com to see the work that we made....
It's all exciting stuff!
Detail from 'On waking'
Harebells, Northumbria.
On Waking (full image)
Sunburst Finish
Sunset across cornfields
Ebb and Flow
Recent Work
Doobally Winter Morning.
Commission: Noidart
Winter Birches
Leon
Attribution
Autumn Hills, Skye
Going Abstract!!
2009 was a good year of change for me. I had been increasingly exploring abstract work and the new work I am making at the moment is largely abstract. I am enjoying this work enormously and feel very inspired by the freedom it is giving me. I am still concerned with the themes of space and light and as always the use of bold colour is important to me.
Some of the images below were exhibited at the Kilbryde Castle Winter exhibition running 7 - 15 November 2009.
Your feedback would be greatly appreciated! Let me know what you think...
I have produced a pack of 6 notelets featuring images from my abstract collection. The pack retails at £5.00. Contact me by e-mail to order : ashfield-artist@hotmail.co.uk
Resurrection
Across the saltmarsh (above)
Reflected Glory, from the collection of Michael and Kirsty Thomson
Little Jewel like canvases - each one sprinkled with gold and bright colour.
Night Energy 1
Edge of Water
Reflections
Commissions
My private commissions are also increasing and I am delighted to make inspiring work for people who are happy to have some personal input in the development of the pictures they order.
Autumn Hills, Skye
Evening Sheriffmuir
I am working in watercolour and also in acrylic at the moment and I am enjoying the ways that these media lend themselves to different images. I am keen to abstract the landscape in my work at the moment and this is prompting me to explore the colours, form and texture at a more emotional level. I hope that my passion for the Scottish landscape / seascape is communicated in this current work, I feel that this is the start of a very productive period!
Exhibitions
Firefly
Bridge of Allan Art Festival, St Saviours Church.
Kilbryde Castle exhibition for
Perthshire Open Studios
The exhibition before doors open but with the exhibition mascot - Bonny dog!
My work, three of my six pictures.
After a very productive summer and another successful exhibition 'This Land' at Scion House, University of Stirling, I worked towards a group exhibition with the 6artists group from Bridge of Allan and two fellow artists who work in Ashfield, Jonathan Ord (photographer) and Peter Russell (artist). Our exhibition If 6 were 9 took place at Ashfield village hall on 10th and 11th November 2007. I was very excited about this event, as it brought together a wide variety of styles and media.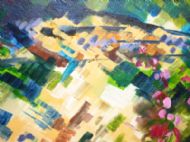 Detail, Storm over Sheriffmuir
Rosebay Willow Herb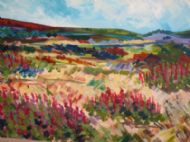 Hill of the Pictish Princess
Autumn storm over Ben Ledi
Perthshire, for Thirza
Golden Fields

My work has been part of many exhibitions click on Library in the menu for the list.
Products for Sale!
We continue to have annual fair's 2012 was a great success and we look forward to 2013's event!
2011's fair happened on Sunday November 13th 2011. It was a busy fair and the most successful one to date!
The 2010 fair was cancelled due to HUGE amounts of snow!
The 2009 Ashfield Christmas Craft Fair took place on Sunday 29 November. We had the maximum amount of stalls the village hall could accommodate - 14!! The atmosphere was magical and soo happy from the moment the door opened to 4pm when the fair ended! I was certainly delighted by the level of sales I made! Thanks to Lynne and the gang for making it such a success!
I have a number of handmade products for sale. orders can be made by contacting me at
Simply let me know what you would like to order and I will confirm details of where to send payment. All orders are placed on a Pro-forma basis. Postage and packaging is £4.00 unless otherwise indicated when your order is confirmed. I look forward to hearing from you....Remember Christmas is just around the corner!!
Hand - Painted Silk
100% Silk Scarves, hand-painted with Scottish views. Lovely luxurious wearable treats!
Easy to wear!
West coast beach (55 x 55 cm)
Kintyre (55 x 55 cm)
Autumn,Perthshire (55 x 55 cm)
SMALL SQUARE SCARF (55 X 55 CM) ............................£25.00
LARGE SQUARE SCARF (90 X 90 CM).............................£30.00
LONG SCARF (118 X 40 CM) .........................................£30.00
All scarves are handwashable or cool 30 degree machine wash and cool silk iron.
Gents Ties - Get yourself noticed! Jon Snow has one of these ties!!
For the more adventurous gentleman who loves Scotland!
100% silk ties, each one individual.
SILK TIES (ONE SIZE ONLY) ...............................£15.00
Greetings Cards
Printed on fine quality eco-friendly board these greetings cards make a perfect gift or stocking filler.
Abstract Pack: Selection of 6 designs - 6 cards in the pack (1 of each design) and 6 envelopes.
Mountain and Sea pack: Two designs, three of each and 6 envelopes.
Produce Pack: Designs from the Ashfield village cook book! 6 designs including Chickens, carrots, salmon leaping and tomatoes! Fun and versatile!! One of each design and 6 envelopes.
Abstract pack: 6 different paintings from 2012's work. 6 envelopes are included.
PACK OF 6 CARDS .....................................£6.00 per pack
Individual card & white envelope....................................................£1.50 each
Box Canvas
Original acrylic paintings on box canvas are available to order. They are very versatile alternatives to framed pictures as they can be hung straight onto the wall with no need for a frame. The smaller pictures can self-stand and are perfect on a shelf, windowsill or mantle - Ideal for the person with limited free wall space!
Choose from: Absract, Seascape, Sunset, Landscape or Mountain or send me a good quality photograph of the view you would like and I will paint it for you. (Photograph will be returned with the finished painting.
Absract mini box canvases....
Small and Large Box canvas'
Large Box Canvas
SMALL BOX CANVAS (5'' Square).......................£20.00
MEDIUM BOX CANVAS (8'' Square).....................£40.00
LARGE BOX CANVAS (10'' Square)......................£75.00
Images from my recent exhibitions and commission work.
Full of life, full of colour. Enjoy the magic of original affordable art.